Ukrainian national cuisine is known to be the same cultural heritage as language, literature, art. Traditional dishes are an invaluable asset and a feather in the country`s cap. Moreover, it is an iconic landmark for many people from all over the world. A foreign visitor just cannot help but try the most popular Ukrainian meal, because a lot will be loosed. The national cuisine has been created for many centuries, so it reflects not only the historical evolution of the Ukrainians but also their customs, traditions, and culture. And finally, it is so delicious.
The easiest way to try it all in Kyiv is to visit the Tsarske Selo restaurant in Pechersk district. This part of the city is very fascinating due to its historical significance.  For that matter, your sightseeing tour or just journey is expected to be more picturesque if having lunch in the Tsarske Selo. Here you can hold a business meeting, relax with friends and of course try a delicious meal.
Ukrainian cuisine is famous for its diversity, high nutritional value, and excellent taste qualities. Maybe that is why traditional food is so popular with tourists. Local cookery was formed thanks to its favorable geographical location, climatic conditions suitable for growing cereals and various plants (namely, black soil, which is uniquely fertile), and partial influence of other neighboring peoples.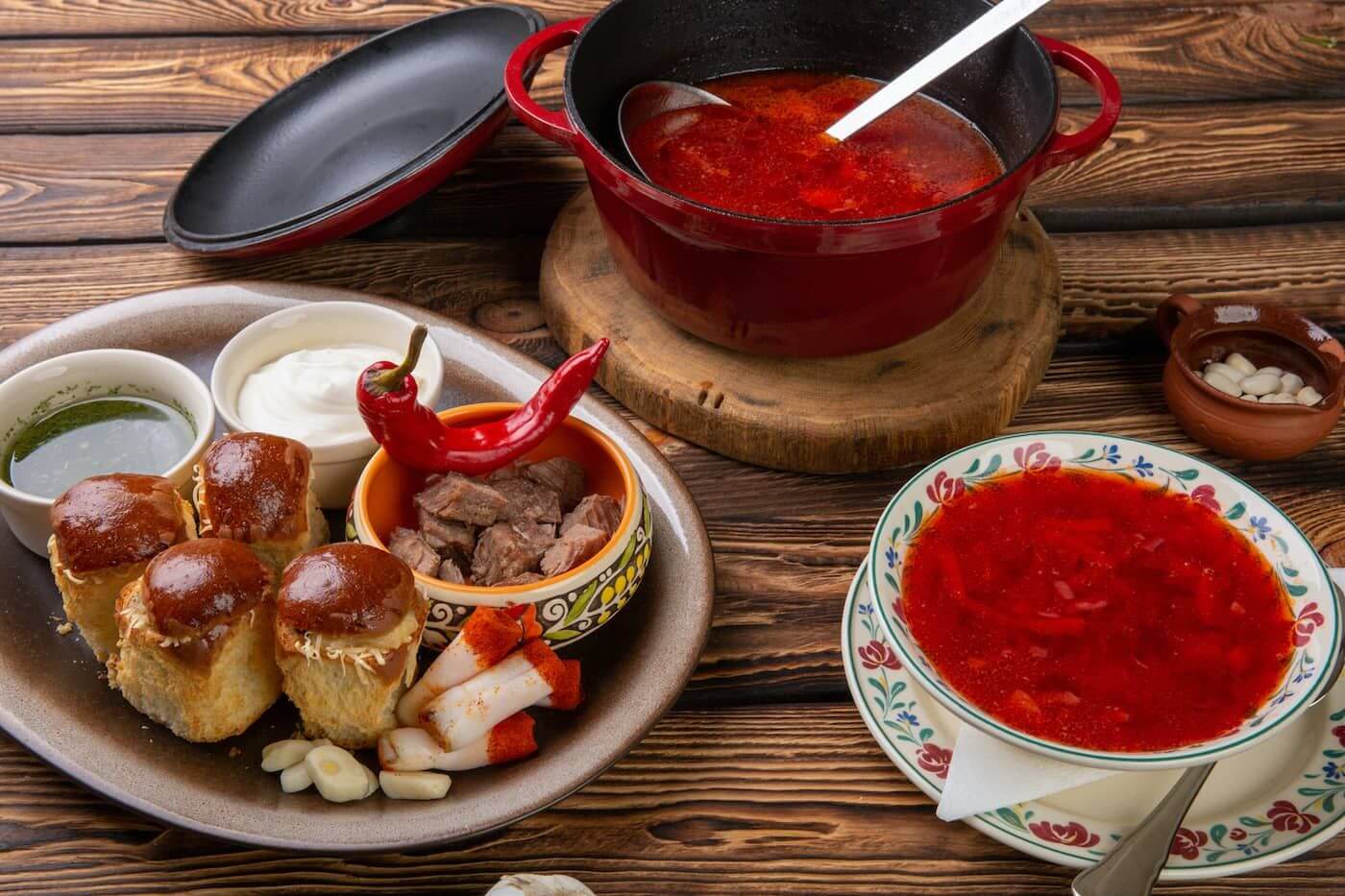 Borscht is undoubtedly the most popular dish in Ukraine. It includes up to 50 different products, mainly vegetables. At the same time, the recipes can differ dramatically depending on the region, season and the set of available products. By the way, beetroot is an obligatory component of borscht, which gives it a special taste and color. In addition to beets, the composition usually includes products such as cabbage, carrots, parsley, potatoes, onions, tomatoes (or tomato puree), as well as apples, beans, zucchini, etc.
Ukrainian borscht is cooked on bone or beef bone broth. One can also prepare borscht on a mushroom or chicken stock. Such stuff is very popular outside its national territory too and there is no problem in finding it in one of the European capitals or even a little further away from there. However, we strongly recommend not trying it abroad, especially for the first time, because the real one has a quite complicated recipe that passes down through the generations and varies from one another in different corners of Ukraine. We collect the best recipes in the Tsarske Selo restaurant so our guests have an opportunity to take pleasure in savoring authentic and scrumptious borscht.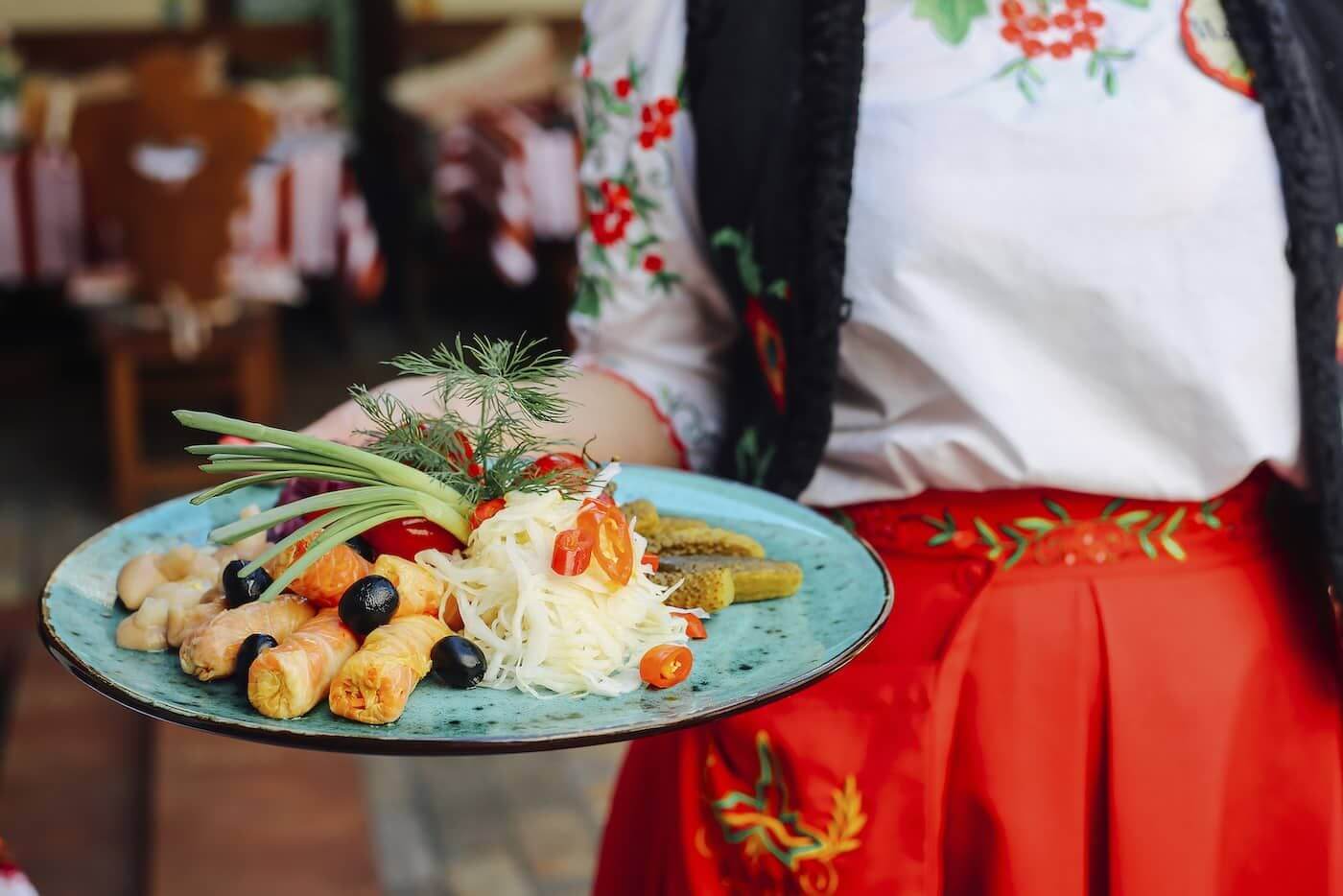 Another sample of Ukrainian traditional food is holubtsi. It is mostly known with foreigners as cabbage rolls with meat and rice. Holubtsi is loved by all Ukrainians. This is a very tasty and healthy dish that is made from stewed or raw cabbage leaves and stuffed with filling. The stuffing varies from rice and meat to corn, millet cereals, potatoes, carrots, beans, mushrooms, onions, buckwheat, and spices. Cabbage rolls always have a different, but unique taste due to such a variety, plus they are extremely satisfying. By the way, holubtsi are eaten with relish when it flavored with sour cream. One cannot imagine a national holiday table in Kyiv without such a meal. Thus, that is the stuff to sample in the Tsarske Selo restaurant. No doubt about it, just try!
The Ukrainians incredibly adore deruny. Worldwide such kind of foods is known as a potato pancake. It is widespread in the west and north regions of Ukraine. The main ingredient of the dish is grated potato, which is finally fried. Derun's origin still has several versions. What is more, some recipes include more than 10 ingredients.  When traveling to Kyiv and visiting the Tsarske Selo in Pechersk district, one may taste its classical version with sour cream or try more exotic deruny as the Carpathian recipe calls for. Actually, people brought to life a wide variety of cooking directions, inventing variable dressing and sauces to find favor in the eyes of the most scrupulous gastronome. There were potato pancakes with egg, meat, sour cream, ryazhanka (a type of plain yogurt), mushrooms, cheese, grilled vegetables, and fried onions. The pancakes changed their color, texture and even aroma depending on the size of the grater and type of grinding. The finished dish is served on a plate after frying or in a clay pot after extra baking.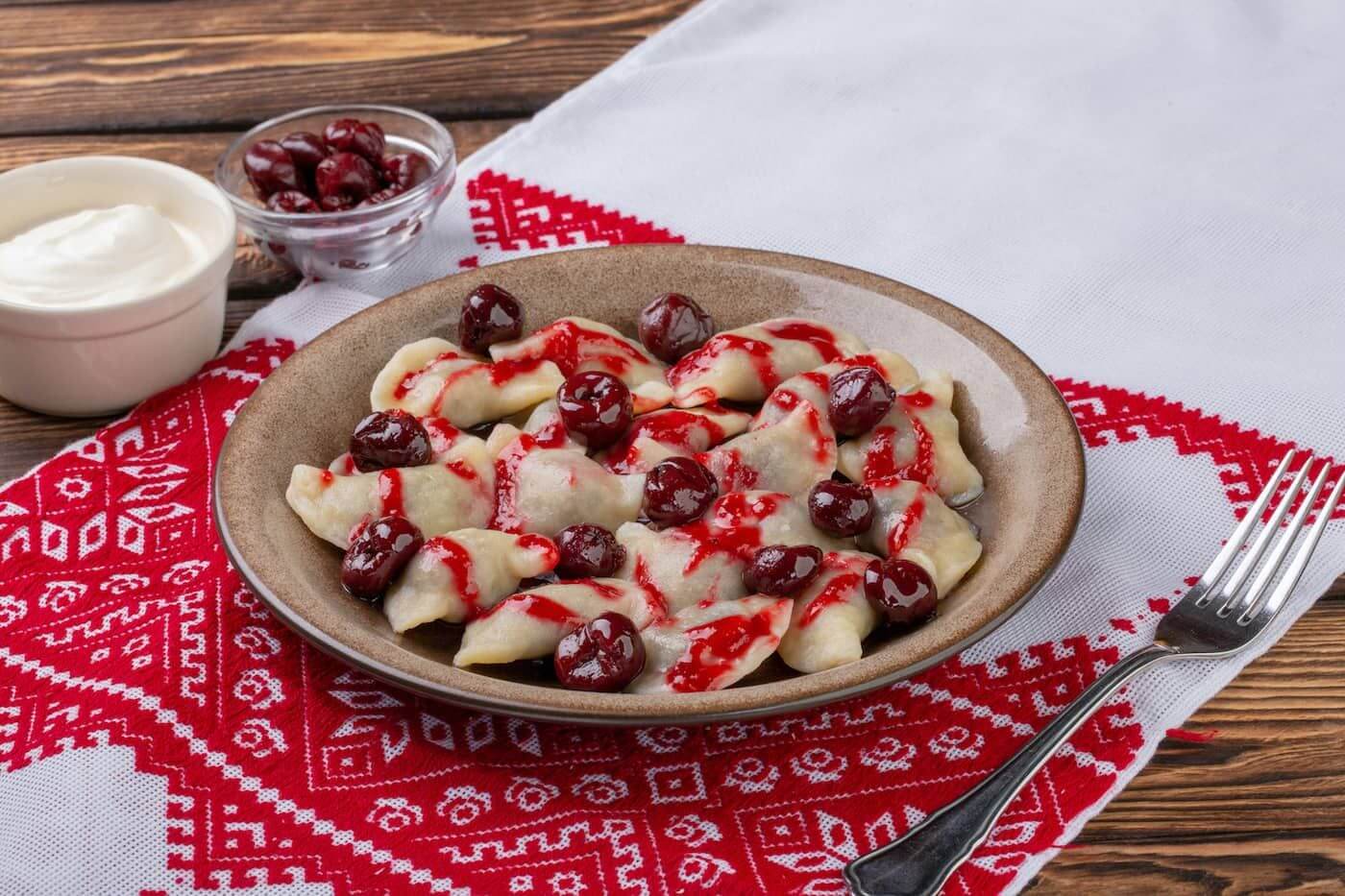 You might want to find out more about traditional Ukrainian food. Varenyky or dumplings, especially steamed ones, is mostly festive meal because the cooking process requires great culinary skills. Especially famous are ones with cheese in sour cream. Also, no less popular are varenyky with poppy seeds, berries, soaked in honey.
Bread is a national shrine because the Ukrainians used to be grain growers. Many songs, compositions, and sayings are devoted to it. Rye bread was always preferable in Ukraine while wheat bread was baked for big religious holidays and weddings. Genuinely baked bread has an incredible fragrance that tempts everyone to have a little bite. Its crust is very crunchy and immensely yummy.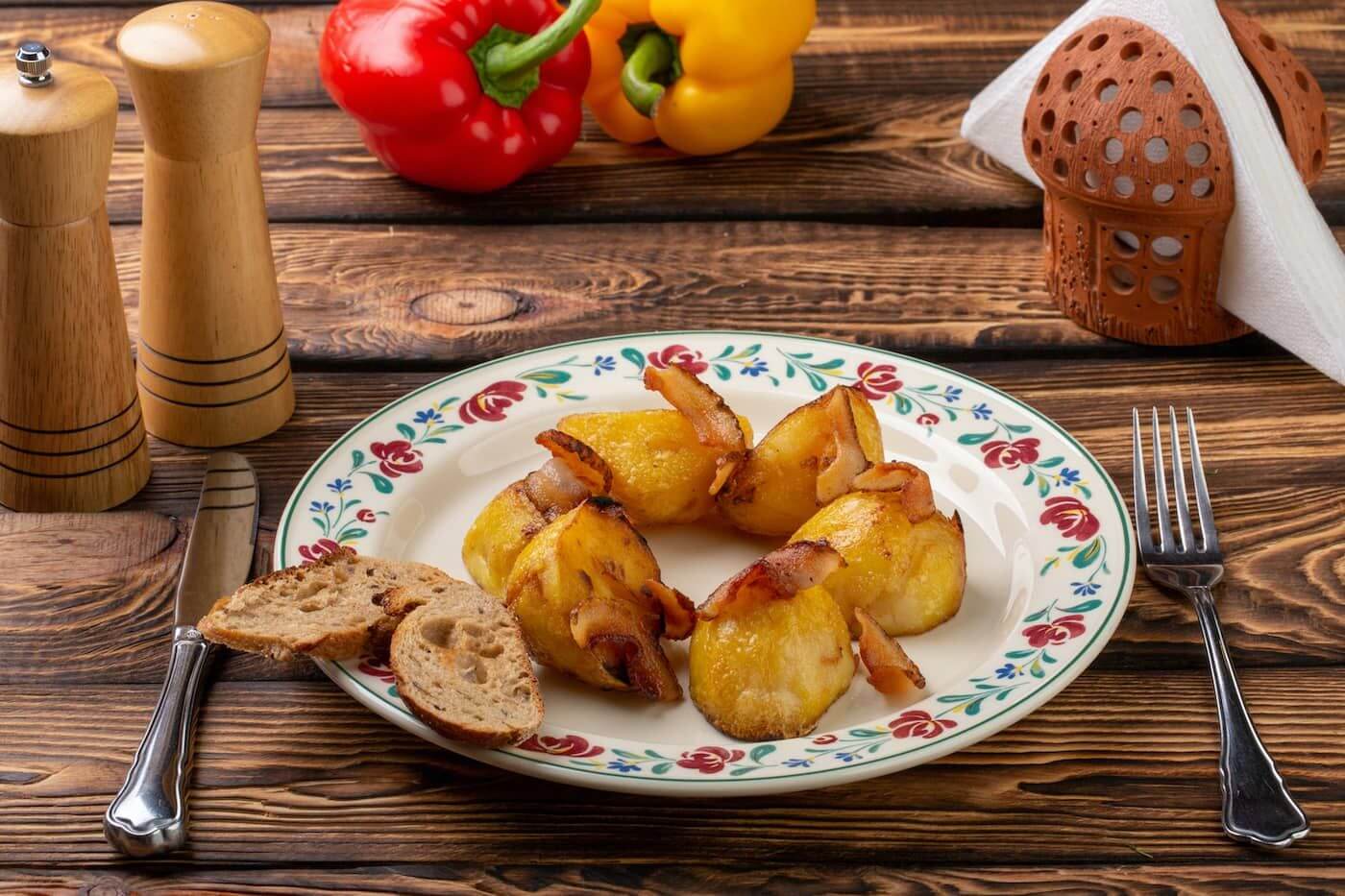 Besides, the Ukrainians are very fond of potato and call it the "second kind of bread" because it is consumed practically every day too. However, firstly it was planted in our areas only in the XIX century. This vegetable got to like by people since that and now traditional food is presented with a lot of potato courses. Roasted potato wedges are one of the tastiest ones. It can be served as a garnish, and one can also take it as a stand-alone dish, such as with vegetables or with crispy salted cucumbers.
If you desire to have just a taste of something modern, let it be vinaigrette – a popular salad with the former USSR countries, cooked from a mix of various raw and boiled vegetables. Nevertheless, beets are the main ingredient without which there is no vinaigrette.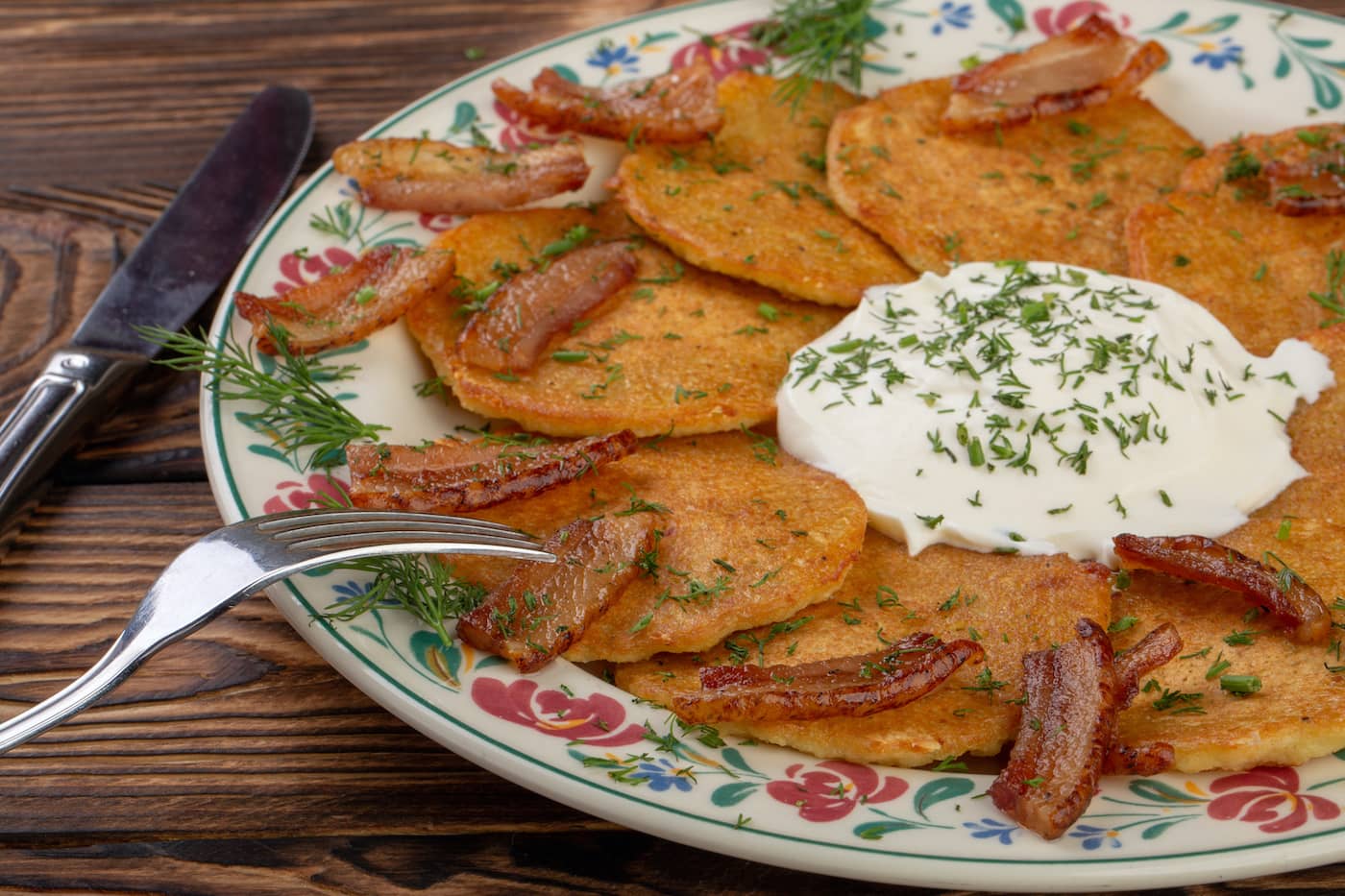 The Tsarske Selo restaurant is an immense corner of traditional food, in which Ukrainian heart and soul are put into. If you are in Kyiv, especially in Pechersk district, come to us and enjoy the best Ukrainian dishes and feel sincere hospitality.